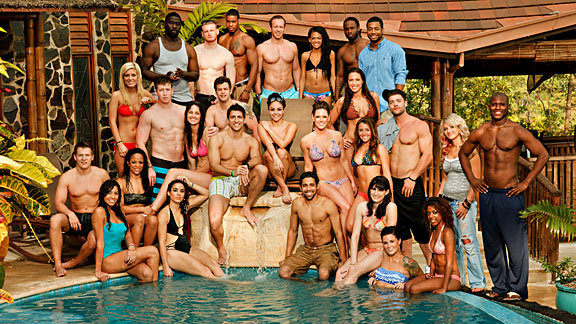 MTV Challenge: Rivals
I am one of those people that gets too emotionally involved in reality TV shows. MTV's recent "Challenge" is no exception.
Although this reality series is overshadowed by the likes of Jersey Shore (which I also love) and Teen Mom, I believe the MTV has struck the jackpot with the cast and the challenges that they encounter.
Here's the set-up: MTV has been doing these challenges for
years
. It's rather ridiculous the types of things they put these people through in order to have the chance to make $100,000 (sometimes less). This season, some of the craziest things the cast had to do involved moving across a platform by jumping from hammock to hammock, moving cars with large machinery, jumping onto a zip line from 50 feet above the water (with no harness!), and the final challenge, which was a 2-day overnight challenge where they had to reach the end at the top of a 9,000 ft mountain.
Ridiculous.
But that's not why I watch: the dynamic of the people on this show is so intriguing and emotionally draining, that you actually get invested in their well-being. I didn't even realize how much I felt like I knew this cast until the rivals reunion which aired last night.
The highlight of this reunion was Adam finally admitting that he cared for bad-boy CT and breaking down into tears despite Kenny aka "Mr. Beautiful" egging him on. It's insane how much I was intrigued by their relationship and the "development" of their characters. To be honest, I was a tad misty - I could have cried out of joy for them if I wasn't too embarrassed that Megan might have walked out of her room to see my crying to an MTV reality show.
The emotional turmoil coupled with the physical challenges made it so that I couldn't even wait to watch an episode until the next day - even though I recorded it on my DVR, I had to watch it as close to live as possible even if it jeopardized my sleep.
Here are the results:
Male Winners: Tyler and Johnny
Female Winners: Eve and Paula
Male Runners-Up: Kenny and Wes
Female Runners-Up: Laurel and Cara Maria
Male Third Place: Mike and Leroy
Female Third Place: Jen and Mandi
I would have
loved
to see CT and Adam take it and prove everyone wrong, but then again I feel emotionally attached to CT - just like every other female he encounters. What is it about him?
I'll get off my soap box. I can't wait for next season's Challenge. Hump Day will be much harder now that I don't have this show to look forward to.
Read More